O'Donnell Dannwolf + Partners recently won two awards in the 2016 Kitchen & Bath Design Awards from Kitchen & Bath Design News magazine.
Winning First place in the Best Powder Room category for their project named "James Bond Powder Room" and Third place place in the Best Kitchen over $100,000 category for the "Kitchen with Distilled Views" project, Lachmee Chin and Kurt Dannwolf are simply thrilled.
Chin, who is heading the Interior Design department stated, "Being rewarded for projects we put so much thought into is incredibly gratifying."
Kurt Dannwolf, one of the principals of the firm, qualified both projects as memorable. "Memorable projects are either projects that have been the most challenging or projects for which we've been given carte blanche. The James Bond Powder Room certainly met both requirements."
The firm was tasked with creating his and her separate powder room to express owners' individual styles. Because powder rooms aren't typically designed for a man, they opted for a very masculine concept — that of a classic black tuxedo with black being used as the jumping off point with a peek-a-boo of white. Black marble walls were carved out with circles of silver leaf to form a super pattern allowing the chrome ceiling mounted faucet to shine as a jewel piece; dark or black materials with beautiful pieces of stone were mixed. In spite of the multitude of materials and patterns used, not one was overpowering the other resulting in a serene room.
"The Kitchen with Distilled Views project was challenging" said Dannwolf. "We needed to create an oversized kitchen that could be closed off and used as a gourmet kitchen for staff when the owners were entertaining without compromising the sophisticated look and feel."
The team created a large breakfast, casual dining, entertaining island with custom stained cabinets that were wrapped with stone, making the island appear like a floating rectangle rather than a utilitarian kitchen island.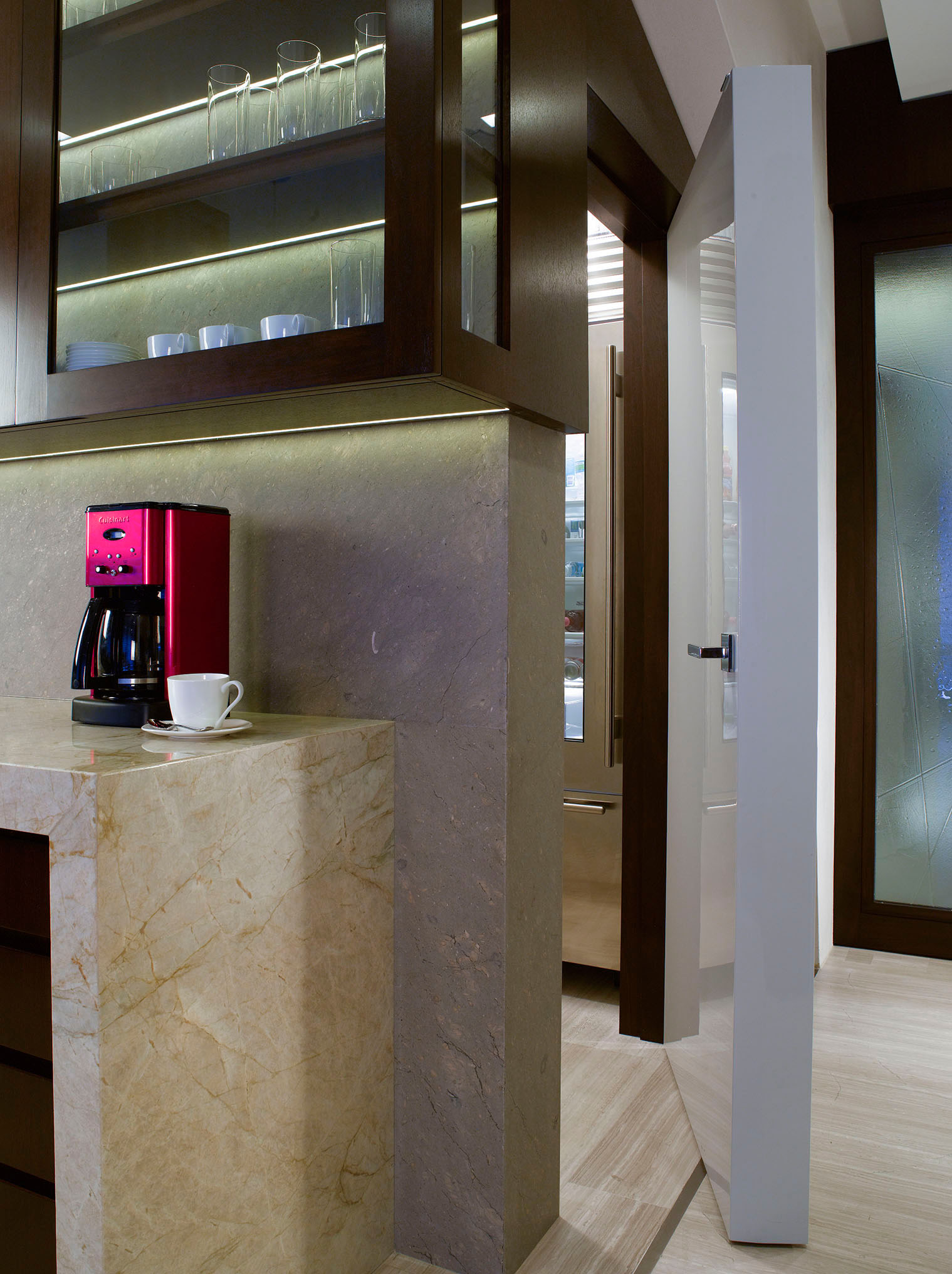 In the event there were staff, doors would pocket out from behind a canted plaster wall that formed the ceiling plane leading from the hallway into the kitchen. An additional door hidden into the canted wall led into a 10' x 4' pantry. The kitchen spatial arrangements allowed for ease of use and for at least 4 staff members to work comfortably between the large island and back counter. This resulted in a gourmet chef kitchen with maximum functionality, with each details created from architectural forms to maintain the sophisticated look.